Safe and Reliable Warehouse in Tricity - Mohali, Panchkula, Zirakpur and Chandigarh
When relocating your house / office / car / bike, you may need to store your belongings temporarily before finally moving out. As personal goods (house or office belongings and vehicles) are precious, choosing only reliable and trusted warehousing services in Chandigarh is crucial. JD Movers and Packers offers safe, secure and advanced short and long term storage facilities or warehouse in Chandigarh Tricity – Mohali, Panchkula, Zirakpur and Chandigarh.
We come to you, pack and pick up the things to take to our affordable storage facility and warehouse. Not only that, you have easy access to your belongings and can inform us to shift them to your desired location as per your convenience.
Temporary Storage and Warehousing Facility in Chandigarh
As a trusted and
top Packers and Movers in Chandigarh
, providing customers with top-class and trustworthy godowns / warehouse in Chandigarh, as well as in cities like Mohali is a must for best moving services.
Warehousing Services in Chandigarh also Available for Kharar, Zirakpur and Panchkula.
JD Movers and Packers is best packers and movers agency with offices and physical storage facilities in Kharar, Zirakpur and Panchkula. Our top-class, well-built, highly secure warehousing facility is vast and comes with security systems, CCTV, security guards, pest control, rain damage & dust free space along with fire protection to store office and home furniture, electronics, vehicles, etc.
Hassle-Free Short and Long-Term Storage Facility / Godown / Warehouse.Be tension-free and store your house and office goods in our well-protected warehouse / godowns for days, weeks (short-term storage facility) or months (long term warehouse storage). As best storage space rental provider, we also provide packing services before transferring them to our warehouse. And whenever you need, we will arrange logistics to dispatch / transport the stored items to your desired location.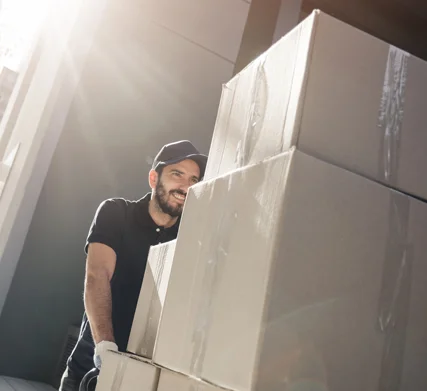 I was a government employee in electricity department and recently retired from my job. I planned to shift back to my native place, a village near Hisar. I am thankful to JD movers and packers to complete the shifting of my 4bhk house safely and with care. They know how to handle household goods and are reliable packers and movers in Panchkula.
I'm a proud wife of a retired Indian Merchant Navy 2 nd Engineer. After the retirement we had a plan to shift to Kolkata for which we contacted JD movers and packers. We took their assistance and they did better than our expectations. It was totally an easy and quick shifting process.
I was a student in Chandigarh and recently got a job in Noida. I was excited and worried at the same time. I had very less time to relocate. I came across JD movers and packers through the internet and their team did a really brilliant job. I got every item in the same condition as it was packed. They used strong boxes and extra protective layers while packing. Choosing JD movers and packers was cool.
Popular Storage Solution Provider in Mohali, Zirakpur and Panchkula for Home and Business Storage
Are you looking for verified, genuine and reliable goods storage facility services in northern India? As a renowned storage facility service provider, we offer efficient warehousing services for all kinds of household and office goods. You have a sort of personal warehouse at best affordable rates. You pay only for what you use. Our rented storage space comes in the form of storage rooms, box storage and vehicle storage depending on your needs and items to be stored.
Situations When Choosing Our Warehousing Facility Helps
A temporary tenure in a new place
Renovation
Relocating to a new city and yet to finalise a house / office space
Moving to a furnished flat / house / office.
Limited storage space
Excess Inventory
Decluttering
Downsizing
Liquidating a business
Moving or expanding a business
Email: hello@jdmoversandpackers.com
Frequently Asked Questions
Have a question in mind? Don't hesitate and Connect with us directly!
1. What are the benefits of choosing a temporary warehouse in Chandigarh for our home?
Whether you are moving out of the city or renovating your house, household storage facilities in Chandigarh from JD Movers and Packers will keep your belongings safe and you tension-free. These warehouses are secure storage space as they have CCTV, pest control, fire safety and safety from burglary, rain and dust. All these at extremely nominal charges.
2. What is the cost of storage facility for a few days in Chandigarh?
Renowned movers and packers provide a wide variety of storage facilities in their warehouses at affordable rates. One may store items for a few days to a few years.
Call JD Movers and Packers at 9813796966 to know about their short and long term storage facilities.
3. What makes JD Movers and Packers better at warehousing Chandigarh?
JD Movers and Packers is a renowned movers company with over 10 years of experience. We are famous for our personalised and made to order services. Our verified and authorised warehouses in Chandigarh Tricity are well spread out in Mohali, Kharar and Zirakpur. Each of our storage facility offers safe and secure storage spaces for homes and offices for both short and long term.
4. Are warehousing services in Chandigarh costly?
Choosing a reliable warehouse service provider like JD Movers and Packers will ensure storage spaces at affordable rates.
JD Movers and Packers have a registered office in the city and provide safe and timely car shifting services.