Trusted Packers and Movers in Panchkula
JD Movers and Packers is a trusted packers and movers in Panchkula that offers reliable and convenient moving for homes, offices, and vehicles. We come with an expert team and use new-age tools and tackles. Also, we cater to various packing and moving services all around Panchkula. Our wide range of moving needs cover every moving need of customers.
Seamless and Comprehensive Relocation services:
We do every kind of big or small relocation. From
warehousing
to packing your home & office goods to
car transport in Chandigarh
, we do it all to any part of the country. Correspondingly, we have a unique offering for our customers wherein we help them with unpacking in the new destination. Our vehicle relocation services in Panchkula are well-streamlined.
Your Trusted Partner for Relocation
The whole process of the move is to help people make a new home or office. With a decade of experience in moving thousands, we today are trusted by many in moving services. Whether one needs a local packers and movers in Panchkula or needs an expert on overnight moving, JD Movers and Packers is the choice.
Exceptional Customer Service:
Our logistics team in Panchkula are available to answer any concerns that you may have during a move. Also, we attend to various issues before, during, and after your move. Which is why, we are a popular and best packers and movers service provider that delivers as per our customer expectations and specific needs.
Our complete range of services:
Site visit for personalized quotation
Expert Packing to ascertain the safety of moving items.
Loading to place packages right in the truck.
Offering Nationwide transportation.
Unloading and delivering securely at the destination.
Unpacking to help customers with settling down.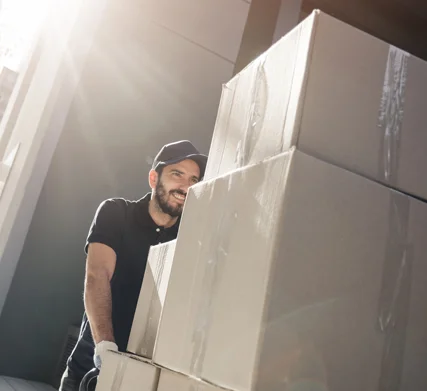 I was a government employee in electricity department and recently retired from my job. I planned to shift back to my native place, a village near Hisar. I am thankful to JD movers and packers to complete the shifting of my 4bhk house safely and with care. They know how to handle household goods and are reliable packers and movers in Panchkula.
I'm a proud wife of a retired Indian Merchant Navy 2 nd Engineer. After the retirement we had a plan to shift to Kolkata for which we contacted JD movers and packers. We took their assistance and they did better than our expectations. It was totally an easy and quick shifting process.
I was a student in Chandigarh and recently got a job in Noida. I was excited and worried at the same time. I had very less time to relocate. I came across JD movers and packers through the internet and their team did a really brilliant job. I got every item in the same condition as it was packed. They used strong boxes and extra protective layers while packing. Choosing JD movers and packers was cool.
Expert Packers and Movers
Our home, office, and vehicle moving services are affordable and quick. We use the latest equipment and technology, so as to deliver a safer and better choice for packing and moving.
Dedicated Support Throughout Your Move:
Every home and office has heavy furniture and delicate machinery. They need utmost care in packing, loading and transporting. JD Movers and Packers send in their best team to use lifters and ramps to carefully execute these heavy jobs. We don't support any hidden charges. That's why, our moving vehicles come with GPS technology, which allows us to track a move.
Maheshpur, Panchkula, Haryana
Email: hello@jdmoversandpackers.com
Frequently Asked Questions
Have a question in mind? Don't hesitate and Connect with us directly!
Do JD Movers and Packers provide customised moving plans in Panchkula?
Yes, our Packers and Movers office in Panchkula offers personalized moving services to suit the unique needs of clients.
Do car transport services in Panchkula include packing and unpacking services?
Yes, for vehicles like cars and motorbikes, we provide various packing and moving services like packing at the pick-up point, car carriers, delivery at the doorstep and unpacking services.
Do you assist with local or short-distance relocations?
Of course, we are one of the top local packers and movers in Panchkula. We assist in house and office relocations locally.
How do you handle delicate and valuable items for an office or house shifting services in Panchkula?
From moving blankets, bubble wraps, corrugated boxes to clean wraps, we use great quality packing materials. This helps products to take the load of a move. Also, with layers of packing material, there is good cushioning during a home or office shift.